Group Management
Create & Delete a Group
With Mockplus Cloud, team members can be grouped for better management. Just click on "My team", select one team, and click "Settings" to create or delete a group.

Create a group by clicking "Add" and entering a group name.
The icons shown in the two columns on the right side can be used to rename and delete groups.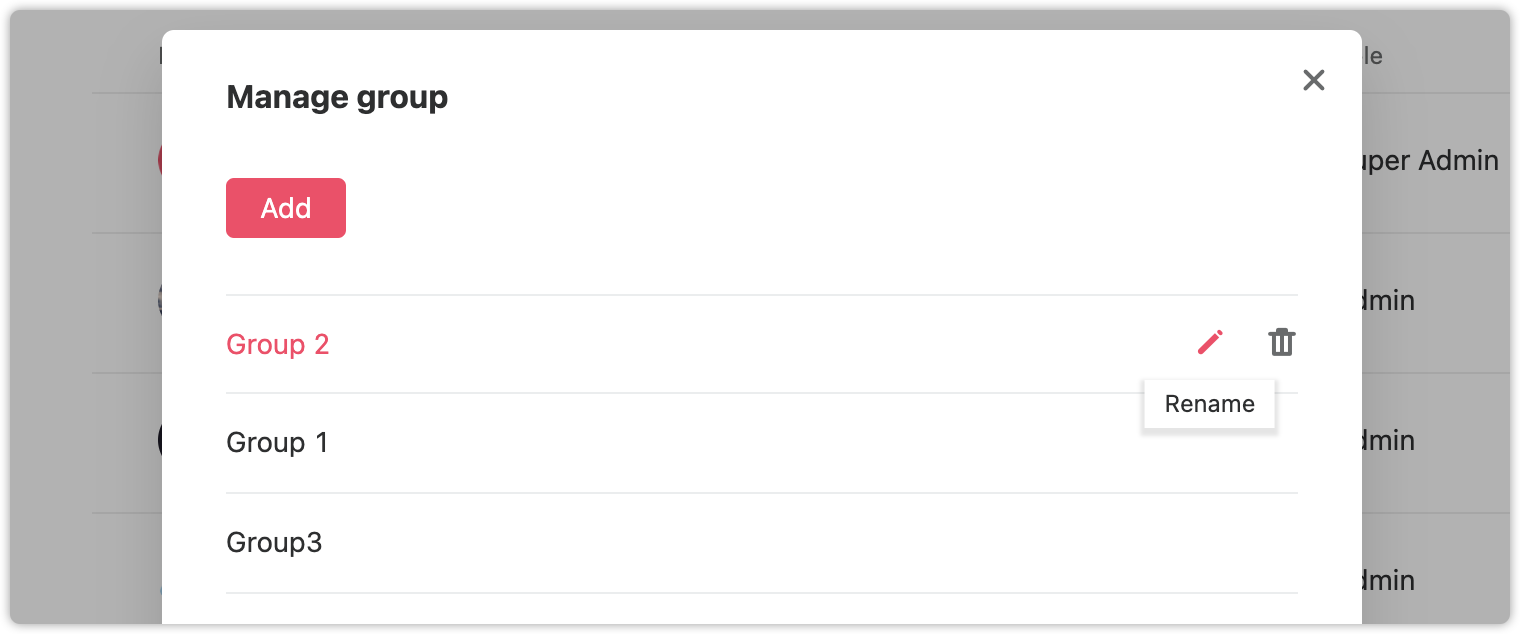 Move Member to Another Group
You can move team members to another group by selecting the member, and clicking "More" to choose "Change group" from the drop-down list.
Please note that one team member can only belong to one group.
Member Management
Invite Members
In Mockplus Cloud, inviting new users to join your team is an easy task completed in a few clicks.
First, go to the project homepage. Clicking "Invite member" can take you to an "Invite new members" dialogue, where you can add new members to groups and projects, and set their roles in the project in advance.


● You can set a role for any of your teammates within a project: Admin, Member, Collaborator or Guest. This role type determines their controls and permissions. Check details here: Roles & Permissions
● You can invite new users by sending them an invite link. To get an invite link, click "Copy" and share it with your teammates you wish to invite to the project.
● You can also set the time period, during which your invite link will be valid. Choose between 7 and 15 days, or indefinite. (Note that you can invalidate all previously issued invite links by clicking "Clean up invitation links" in the team management page.)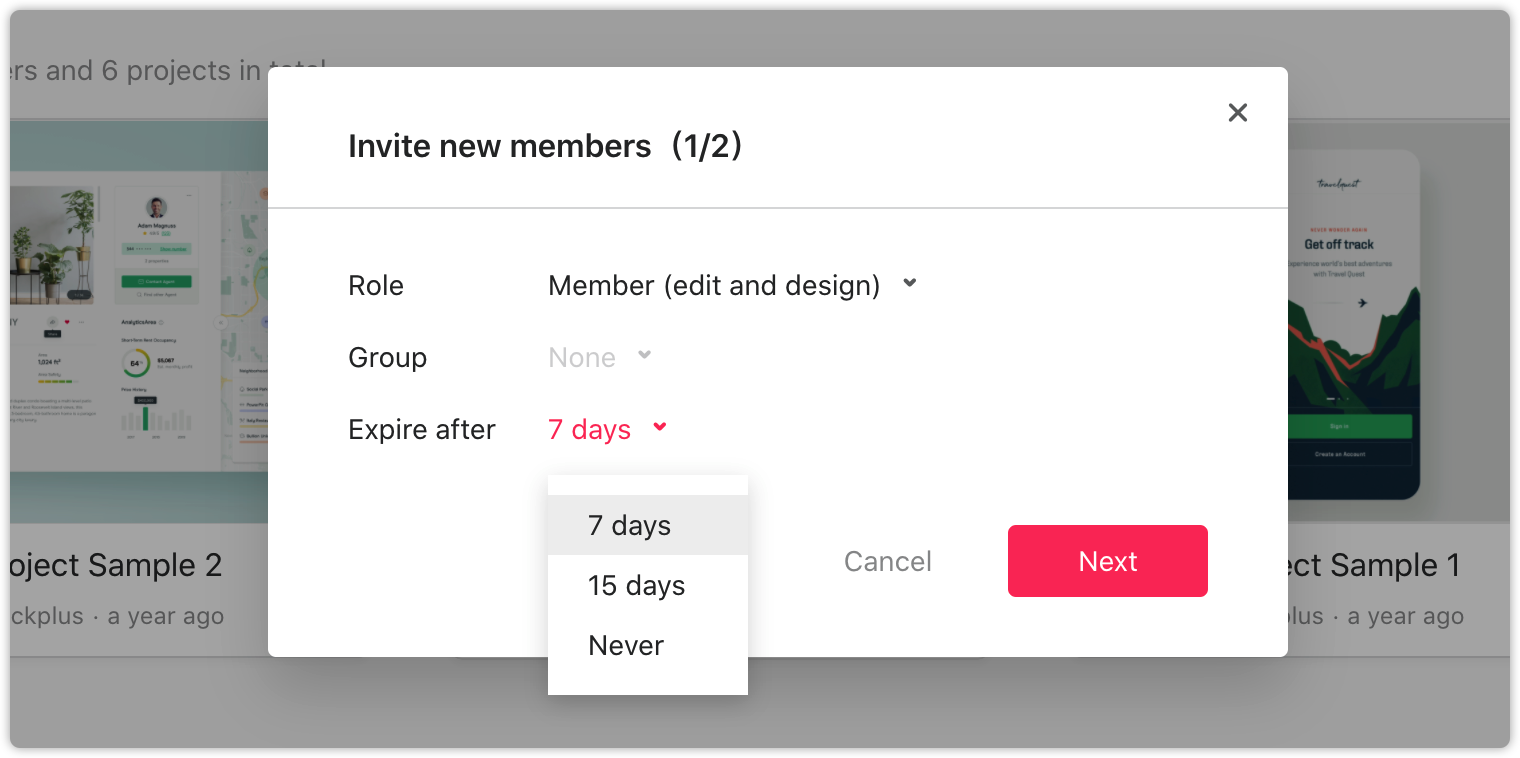 And then, select a project folder or personal project that new members are allowed to join or access. When a project folder is selected, new team members will be added to all projects contained in this folder.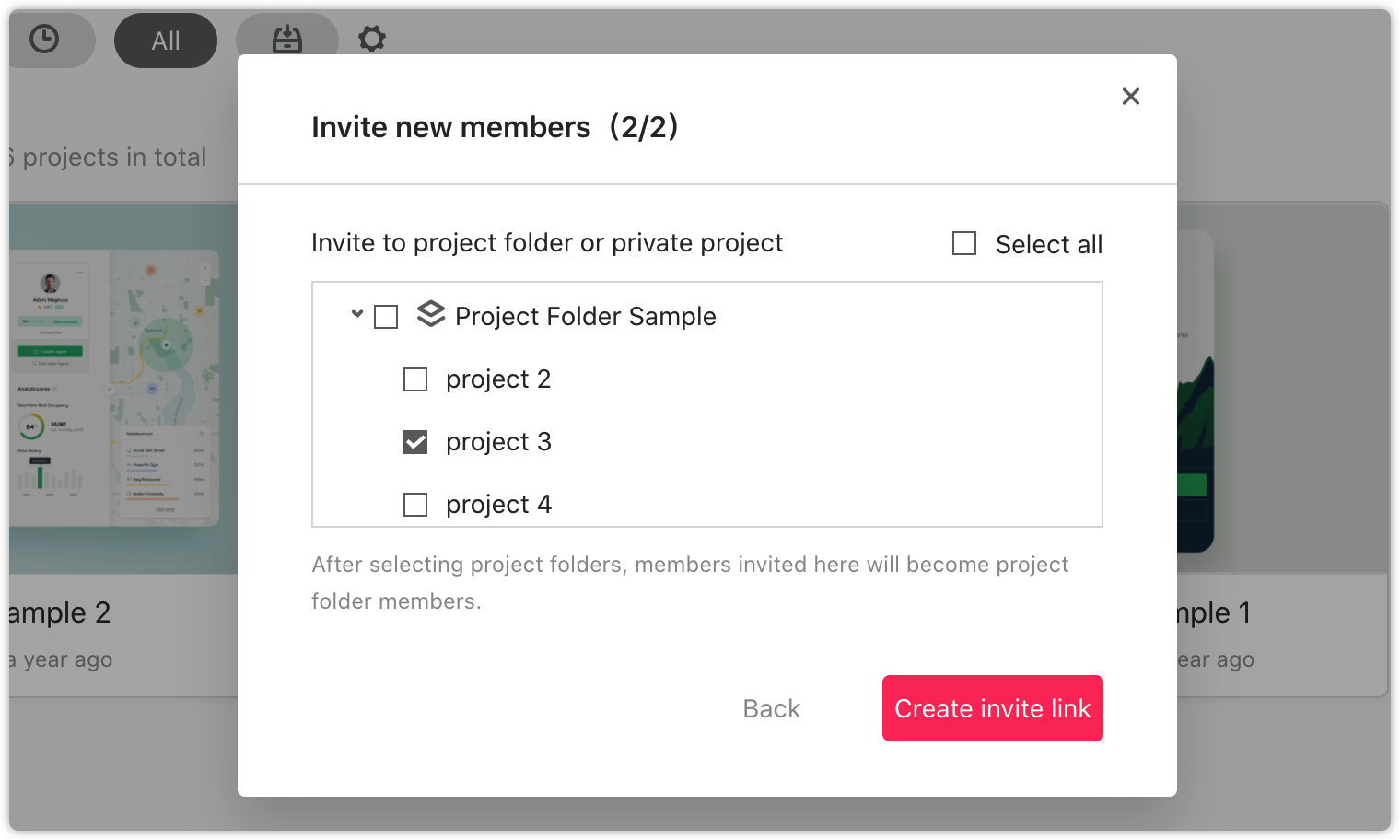 Set Roles for Team Members
Within the member invitation pop-up window, you can set the role of the invitee in advance. Check this tutorial to know more details: Roles & Permissions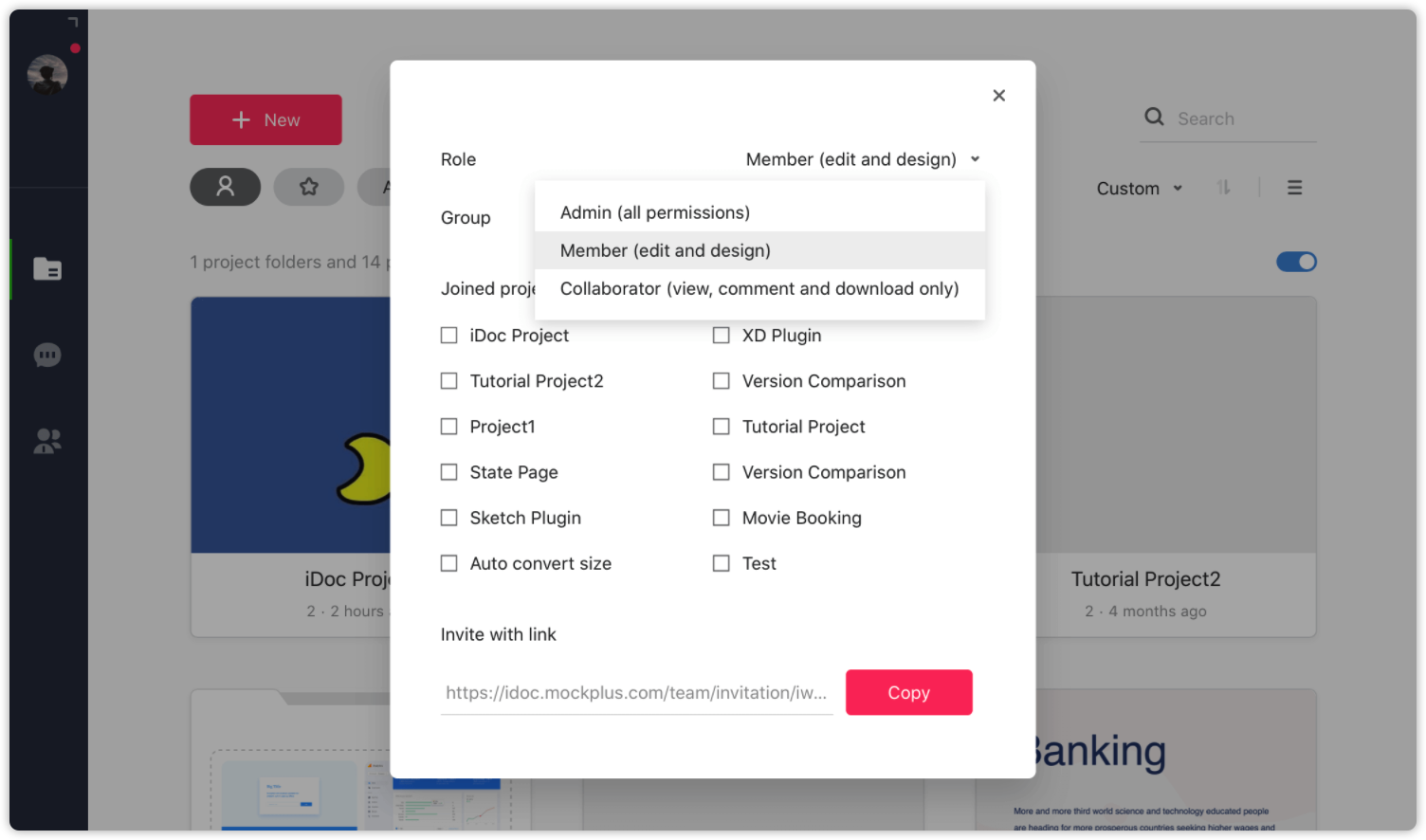 Click the "Copy" button to quickly copy the generated invitation link and send it to the members that you'd like to invite. They will then be able to easily open the link and log in to join the team. The invitation link is reusable and valid for 15 days.
In addition to setting the role of a member during the invitation, you can also modify the role of a joined member in the "Member" tab under "My teams" section. Use the search bar in the upper right corner to find a project member quickly.

Assign Joined Projects for Members
Go to "Manage members" tab under "My teams", and you can view a list of team members, their roles, and the projects and groups they belong to. To assign a project to a member, select a team member and choose "Assign joined projects".
You can also quickly search for projects by using the search bar in the upper right corner.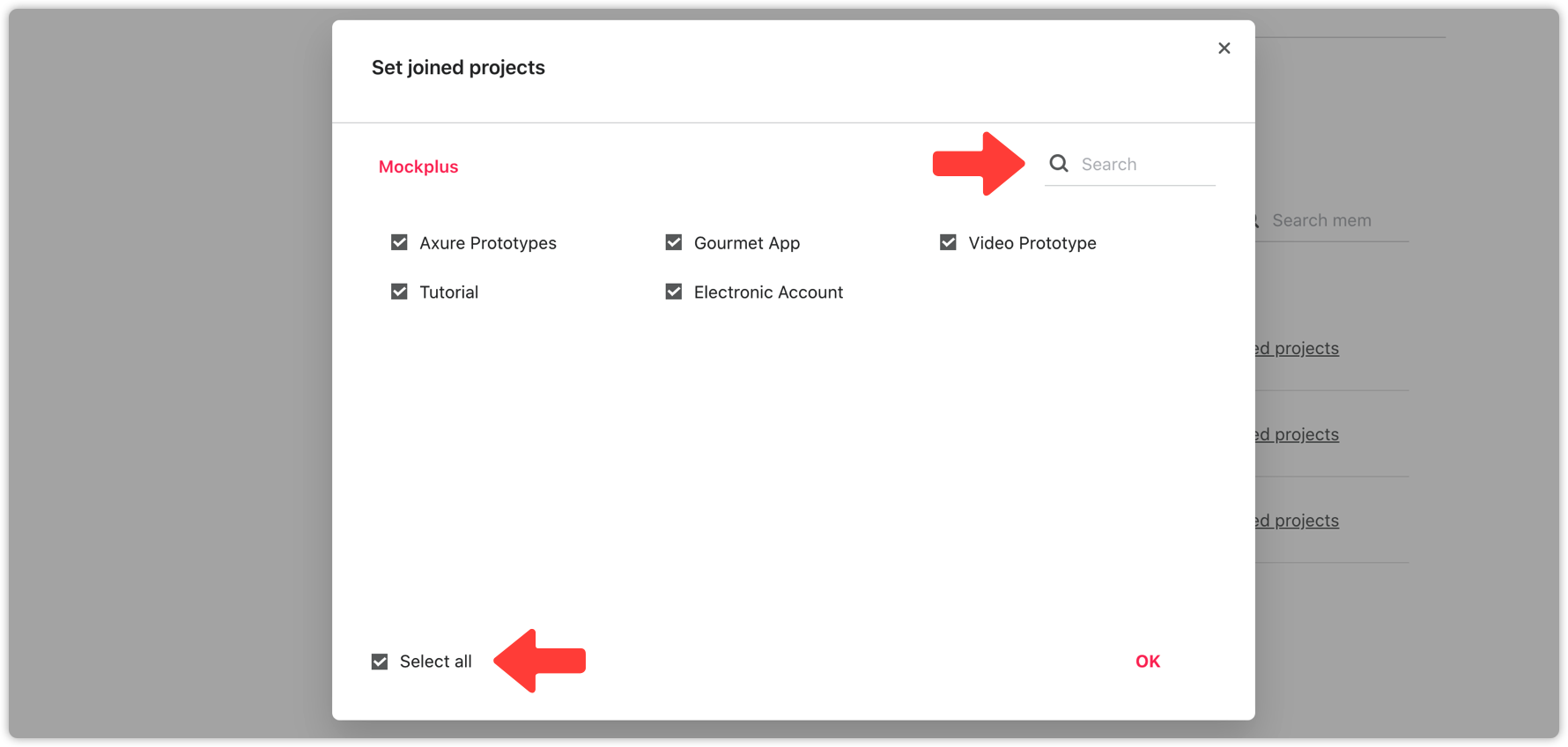 To ensure the security of your projects, any new member will need Admin approval to join a team. The new member will need to request to join the project and await approval. Once requested, the Admin will receive a notification and can choose to approve or deny the request.



Once approved, the new member can join the team. Of course, Admin can also reject a membership request in the interests of keeping projects safe.

Clean Up Invite Links
Every time you invite someone new to your team, Mockplus will automatically generate a unique invite link for you to share. For increased security, you also have the ability to disable all sent invite links. Click on "Clean up invite links" in the lower left corner in "My teams" page.
Once cleaned up, all previously sent invite links will be disabled immediately.
Delete Team Member
Click "My team" to open the "Manage teams" tab, and click "more" to delete the member.
Member Management
Please check here for more details of Project member management.