You can share a project by clicking "Share" on the cover of the project, pressing "Copy links" and paste the link to your team members or colleagues.

Private Share
When privately sharing a project with someone else, Mockplus provides an additional option: "Also invite your partner to become a project member." Once selected, the user that receives the share link will be able to join the team as a member and get the permission to view project details.(Note that only Admins and Super Admin can tick or untick this option).
Public Share
You can publicly share a project with others via a single link. The ones that receive the share link will be able to enter Storyboard, and view all pages and logic jumps between them without having to log in.
To do this, click "Share" on the project cover and switch to the "Public Share" tab. Now you can copy and paste the share link to anyone you like.
Please note: If you are using Jira, you can also install our Integration for Jira and attach this public share link to your Jira issue, so your team can quickly access this project in Jira.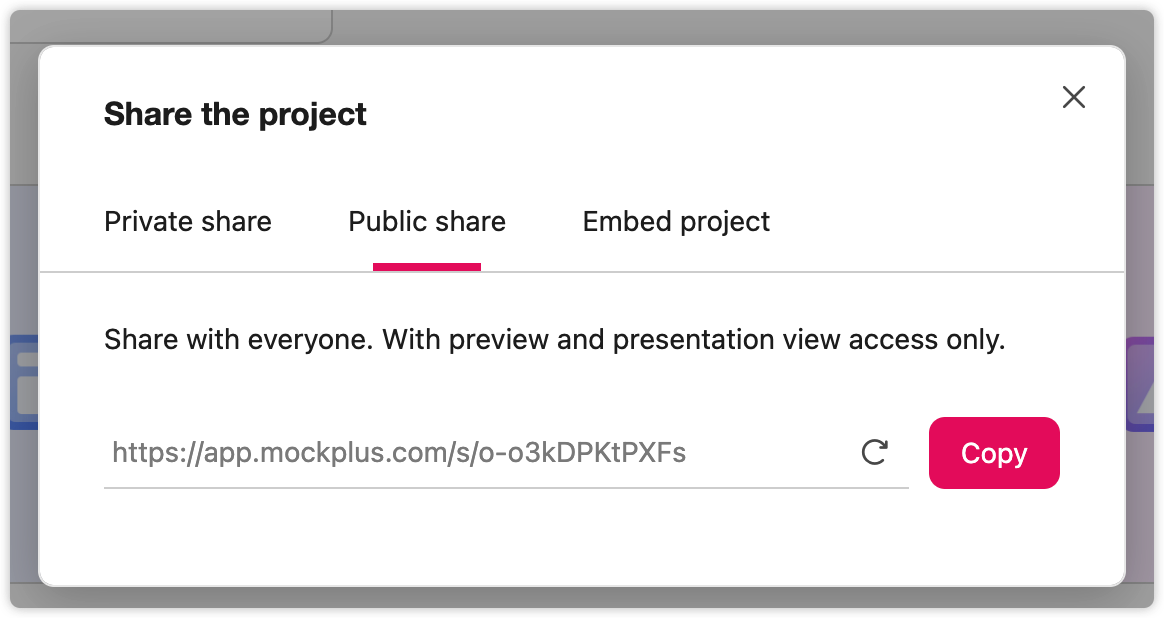 Reset Share Links
If you need to reset access to a public share link, click "Reset" on the popup window. Your old link will be deactivated immediately and a new link will be automatically generated.
Share current section only
Mockplus allows you to share your prototypes or designs only within a team via a single link.
Here goes how:
Go to your Prototype or Design mode;
Click the Share button on the right corner of the top toolbar,
Choose the Public share tab and tick the Share current section only;
Then those who get the link can access your prototype or design within your team.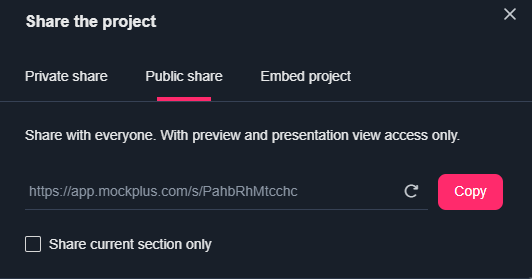 Note. If you untick Share current section only, all files within the current will be shared and access by others.
Set Share Permissions
To set the share permissions of a project, click "More" on the cover of the project, choose "Settings" and check or uncheck the option saying "All team members can share this project". (Note that only Admins and Super Admins have access to this option.)