Creating an online Mockplus account enables you to enjoy its free plan. But once your projects or team members within the free plan have reached their max limit, you must buy a subscription to upgrade your plan. While signing up, you have to provide an email and set up a username. But you can change your account info, i.e., email, username, or avatar, anytime you want. You can view your purchase history and upgrade or renew your Mockplus RP plan by going to account settings. Read this guide to learn how to access your Mockplus account settings and manage them.If you want to learn how to create your online account, click
here
.
Account Settings
Due to the user-friendly interface, accessing account settings becomes effortless. Let's learn how to change your account info on Mockplus RP.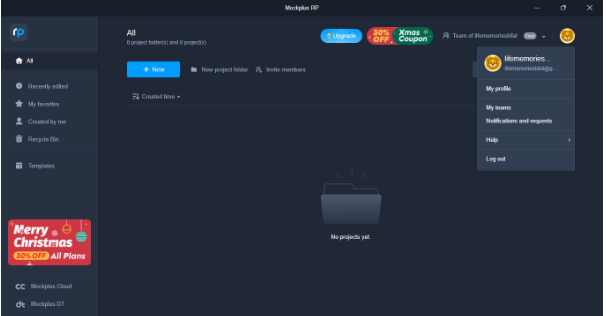 Account Info
Follow the steps below to view or change your account details.
Click your Avatar and choose My profile from the drop-down list;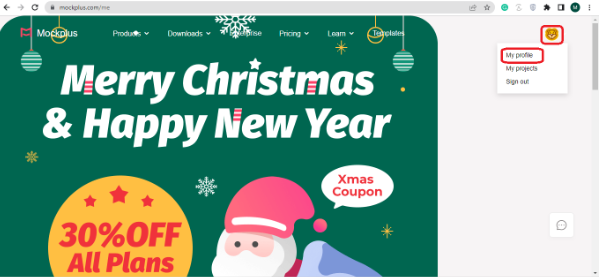 Then in the Account info sub-tab, you can update the email address, username, password, and profile avatar;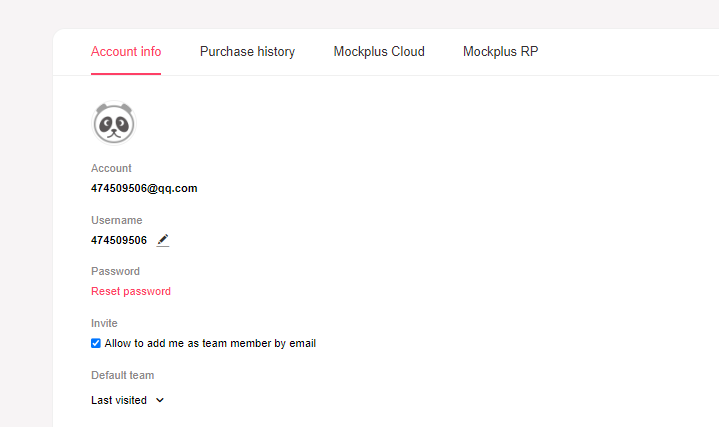 Under this sub-tab, you can also set the:
Whether to allow others to add you as a team member via email;
The default team whose projects will be shown to you after logging in.
Tip!
You can edit your account info as often as you want by following the above-mentioned steps.
Purchase history
From the
Purchase history
sub-tab, you can find information about your subscription type, the pricing plan, your purchase date, and the payment method.

Note:
If you are enjoying a free plan, no subscription information will be shown here.
Upgrade or Renew plans
You can compare different Mockplus Cloud and Mockplus RP plans. To upgrade or renew your plan, follow the steps below:
Switch to the Mockplus Cloud/Mockplus RP sub-tab;
Click the Upgrade/Renew button;

Add payment details, including the credit card details, name, and email address, to get your plan upgraded/renewed.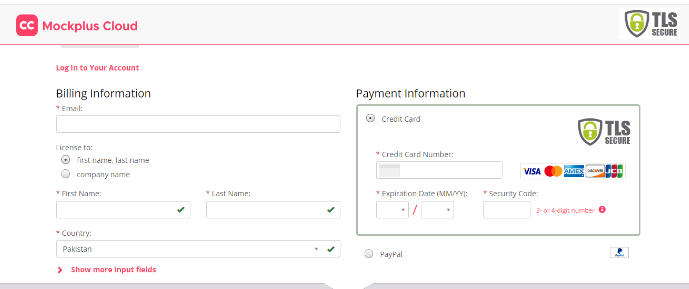 Once the subscription process is complete, you will receive a confirmation email from MyCommerce. If you do not receive the email, please contact
support@mockplusapp.com
.
Note:
Your Mockplus RP plans will be shown under two categories:
Personal space and Team space.
FAQs
1. What Can I Do When It Shows That My Plan Has Expired?
When your plan expires, you can renew it. To renew your plan,
Click your Avatar and choose My profile from the drop-down list;
Switch to the Mockplus Cloud/Mockplus RP sub-tab;
Click the Renew button for your expired plan;
Then pay to have your plan renewed.
2. How Can I Cancel My Subscription?
To cancel your subscription,
Go to MyCommerce https://account.mycommerce.com/;
Type in your User ID and Password, then click Request Login/Password;
Enter the email address you used for billing purposes.
After logging into MyCommerce, you can find your order information on the Order Overview page.
Check any order you have placed and click Cancel subscription to get it done.
3. Why cannot I Receive My License Information After The Purchase?
Mockplus will automatically upgrade or renew your plan after your purchase.
Log in with the email you used for billing information,
and then visit the
Purchase History
sub-tab to check your plan.
4. How Can I Transfer Ownership From One Account To Another?
To transfer your account ownership, please contact support@mockplusapp.com, and we will get back to you within one hour.
5.Where Can I Access My Paid Invoices?
Your paid invoices will be attached to the email sent by MyCommerce after your purchase. Check your email inbox to find them. Go to your spam box if you are unable to find them in your inbox.